Money Heist
2017 - current
To carry out the biggest heist in history, a mysterious man called The Professor recruits a band of eight robbers who have a single characteristic: none of them has anything to lose. Five months of seclusion - memorizing every step, every detail, every probability - culminate in eleven days locked up in the National Coinage and Stamp Factory of Spain, surrounded by police forces and with dozens of hostages in their power, to find out whether their suicide wager will lead to everything or nothing.
Φωτογραφίες
Βίντεο
Συντελεστές
Επίσημος τίτλος:
La Casa de Papel
Release Date:
02 / 05 / 2017
Δεν υπάρχουν διαθέσιμες κριτικές
Εγγραφείτε εδώ για να γίνετε μέλος, ύστερα από τη διαχείρηση λογαριασμού μπορείτε να αιτηθείτε να γίνετε Reviewer
Σεζόν 1
15 Επεισόδια
Under the guidance of The Professor, a group of eight very peculiar robbers have attacked the National Coinage and Stamp Factory of Spain and took hostages to carry out the most perfect robbery in the history, aiming to take home 2.4 billion Euros in cash.
02 / 05 / 2017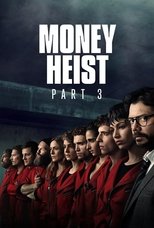 Σεζόν 2
16 Επεισόδια
The Professor and his team reunite to free Rio, this time targeting the Bank of Spain with a daring and dangerous new plan. The Resistance continues.
19 / 07 / 2019
Everything Seemed Insignificant
Σεζόν 3
10 Επεισόδια
Three years after the heist on the Royal Mint of Spain, the robbers are enjoying their lives paired-up in diverse locations.
03 / 09 / 2021
Do You Believe in Reincarnation?
Welcome to the Spectacle of Life